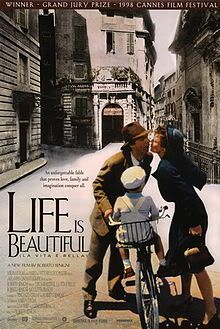 Life Is Beautiful is one of the top 100 movies on my list. I promise you, you'll love it too. It has a positive message despite the odds that were caused by discrimination. When I first watched this in 1998, I was drawn to it because the scenes remind me of the photos from my father's childhood in Germany during World War II.
Here is the plot summary courtesy of Wikipedia
The first half of the movie is a whimsical, romantic, somewhat slapstick comedy set in the years before World War II. Guido Orefice (Roberto Benigni), a young Italian Jew, arrives in Arezzo where he plans to set up a bookstore, taking a job as a waiter at his uncle's hotel.Guido is both funny and charismatic, especially when he romances a local school teacher, Dora, saying she is beautiful like the morning sunrise (portrayed by Benigni's actual wife Nicoletta Braschi). Dora however comes from a wealthy, aristocratic, non-Jewish Italian family. Dora's mother wants her to marry a well-to-do civil servant, but Dora falls instead for Guido where he ends up stealing her away at her engagement party from her aristocratic and arrogant fiancé. Several years pass in which Guido and Dora marry and have a son, Giosuѐ (Joshua) (Giorgio Cantarini).Dora and her mother (Marisa Paredes) are estranged due to the unequal marriage. Later on, a reconciliation takes place just prior to Giosuѐ's fourth birthday.
In the second half of the film, World War II has already begun. Guido, Uncle Eliseo and Giosuѐ are forced onto a train and taken to a concentration camp on Giosuѐ's birthday. Dora demands to be on the same train to join her family and is permitted to do so.In the camp, Guido hides his son from the Nazi guards, sneaks him food and tries to humor him. In an attempt to keep up Giosuѐ's spirits, Guido convinces him that the camp is just a game, in which the first person to get 1,000 points wins a tank. He tells him that if he cries, complains that he wants his mother, or says that he is hungry, he will lose points, while quiet boys who hide from the camp guards earn 1,000 points.
Guido convinces Giosuѐ that the camp guards are mean because they want the tank for themselves and that all the other children are hiding in order to win the game. He puts off Giosuѐ's requests to end the game and return home by convincing him that they are in the lead for the tank. Despite being surrounded by rampant misery, sickness and death, Giosuѐ does not question this fiction because of his father's convincing performance and his own innocence.Guido maintains this story right until the end when, in the chaos caused by the American advance, he tells his son to stay in a sweatbox until everybody has left, this being the final test before the tank is his. After trying to find Dora, Guido is caught, taken away and shot dead by a Nazi guard, but not before making his son laugh one last time by imitating the Nazi guard as if the two of them are marching around the camp together.
Giosuѐ manages to survive and thinks he has won the game when an American tank arrives to liberate the camp. He is reunited with his mother, not knowing that his father has been killed. Years later, he realizes the sacrifice his father made for him, and that it was because of that sacrifice that he is still alive today. In the film, Giosuѐ is four and a half years old; however, both the beginning and ending of the film are narrated by an older Giosuѐ recalling his father's story of sacrifice for his family.




I chose this movie for the Iconic Hat movie for this Tuesday because it's what we recently watched on DVD. There is a scene in this movie where Guido (Roberto Benigni) envies the hat of a gentleman and goes with his funny antics until he runs away with it! A hat in this movie, I suppose, is a requirement for modesty and a distinction or status of authority in social gatherings. I've seen so much hats in this movie, it was- after all - shot in 1939 Italy, where you can find the Italian city of Milan - where the highest quality of hats were made.
Now that's my entry at the drop of a hat! :)