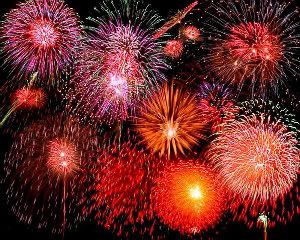 Happy New Year to all!
I enjoyed the celebration of New Year's Eve today however simple it was. What mattered most was I celebrated with my whole family and also with my sister-in-law's family.
But still I couldn't resist work, I just felt I had to keep busy and maintain my
"workaholic-mukhang-pera-status"
I opened shop until 12 midnight and would've gone on until 10 the nextday (as requested by the young people addicted to Cabal Online) but I thought that would be too much abuse for MY mind and body on the first day of the year.
Ooh, I didn't take pictures of the events that happened on New Year's Eve. I'll see if I can borrow my SIL's phone to upload a few.
What did we do in celebration of the new year this time?
We decorated a few balloons inside the house, my SIL made spaghetti, my hubby made chicken-vegetable salad, arrozcaldo and I once again made a buko-pandan dessert. I also quickly copied from IMEEM plenty of fast songs beginning with Auld Lang Syne and continuing to songs from 1981-1990. Just songs that can make me feel happy.
happy new year
What we did at 12 midnight
:
watch most of our neighbors' fireworks (and exclaim ' there goes my 500 pesos!') It was lovely though, and for the very first time I've seen a shower of colorful fireworks light up just above me (mostly thanks to our new next-door-neighbor who lit their fireworks up)
What we did after the fireworks display:
My SIL and I gossipped with my cousin
Roger
,hahaha! That's so bad of us, eh? *shrug* Can't help it.... we were laughing about a relative's hallucinations kasi.
And the joyful feeling continued until the next day. I still opened shop at 8am and closed at 9pm. We made well for the first day.
(Naka-650 naman kami, for the first time)
The rest of the afternoon we listened to my hubby's usual "one bucket of stories" like his experience in caregiver school, ghost stories, childhood memories in mining community... etcetera, etcetera. He never runs out of those. (warning: some may not be true... heheheheh!)
Later, one of my "long time no see" friends dropped by for a short visit. Amazing, as I haven't seen her in twelve years! It was a nice surpise to see her again with her hubby and kids too.
Towards the evening, my hubby and I met with my sister-in-law and hubby at the town plaza to "watch" whatever was there - supposedly Mangaldan's New Year's celebration and awarding of boardpassers and other chuvachenes. But we ended up just sitting on the picnic table by the entrance because the place was too crowded. Naughty me and my SIL.... we just counted all the bakla we saw walking past because they seem to be everywhere! I lost in our bet as I can't seem to spot a bakla in a second. ( I must be still living in the eighties doing the silliest of things)
I'm just so happy the new year began well and with much joy and laughter. I wish everyone the same happiness and greet you all a great and positive year ahead!