Readers must have missed me, as usual, haven't found the time to blog. But well, exciting things have happenned. Just out of the blue, we've found a long-lost relative we are eager to meet!
I'm referring to Jessica Grace, my brother-in-law's daughter of 14 years, whom he's never met.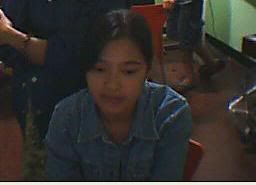 Yes, that's her with her mother. Sad to say, those are just the pictures we have of Jessica for now but her mother hopefully will give us more.
In my hubby's family, we sometimes wished we've known this little girl. We did not have a name or a picture. As for myself, I so wanted to get a glimpse of her but I'm usually always the last. I've heard through the years that passed that her mother was in town (she's now residing in Singapore). I heard too that the little girl is studying in a private school here. But no one among my in-laws attempted to find her after one or two years of trying. Jessica's mother has vowed never to show the child to her father or family. It was kind of a vow required by her aunts and uncles.
Years passed, here she is and is now 14. Intelligent,outgoing and so pretty!
It was just this past year that she inquired of her father. This time her mother can no longer evade her questions. So finally she told her, and goodness, Jessica confessed that she somehow knew because of the people in the community. After all, we live in a closely-knit community that people easily know each other if not by face, then by name. She has heard from teachers at our high school who comment that she reminds them of John and Sharon. Surprising too, her godmother who used to be our neighbor gave her bits of news. We never suspected!
It's very timely that she showed up, as I was updating the list of our family tree and muttered to myself, if only I knew Malou's last name or at least give a name to this little girl! Then voila! a week later, we saw them at the town market. This time, too, her mother approached us and willingly introduced Jessica to us. Before we parted, I (always the filekeeper) -asked of their contact number.
Now here's how their part of the family tree looks:
see the big picture here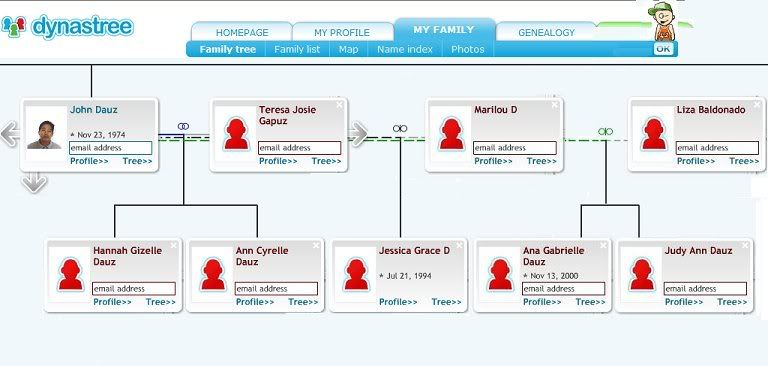 (Shh, that's just simple - you haven't seen my mother-in-law's branches yet!!! haha!)
okay, seriously...
I sometimes wish we can easily reach John, but he is really missing. Relocated to someplace where we cannot reach him nor his family. He used to reside in La Union but now we have no idea where they are. As my brother- and sister-in-laws would say, it's better not to get in touch with him yet and easier for everyone's nerves. Because when we do - exciting or rattling things just happen. Let me describe John in 2 songs: he's Jim in Bon Jovi's
"Someday I'll Be Saturday Night"
and he's the guy described in Eagle's
"Take It Easy".
Still I have not said a word about this yet in my blog, but yes, on my hubby's side of the family, life is an adventure!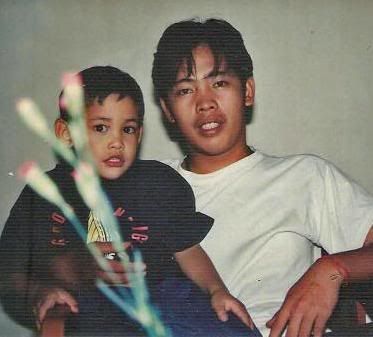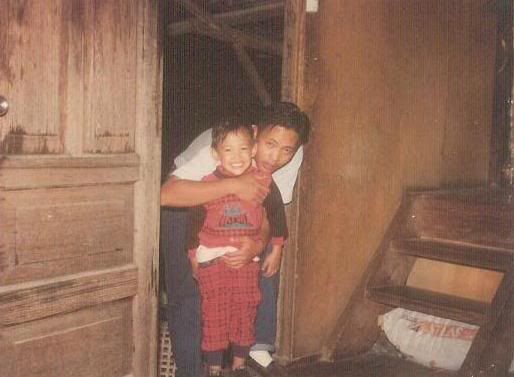 Still we miss him at times. When he was younger he lived with us at our Dagupan residence. This was in 1992. He was close to our eldest - that's Brownie with him in the pictures. He took care of Brownie most of the time then. John's a laidback person, cracks hilarious jokes, gives "words of wisdom" to his nephews. He's also a jack-of-all-trades type so when we need to get a job done, he's sure to assist. As he got older, he became this hard-working and responsible father towards his children - I refer to his daughters from two relationships Gabrielle in 2000 and the other two at present.
That is what we tell Jessica, the good qualities of her father. We share all the nice memories we have of John. We also show her all of the pictures - mostly Christmas pictures we still have of John from 1992-94, about the time her mother and father were still together. (And we were surprised to find a picture of her mother in the background!)