Last Friday we went for a free iris analysis check-up at the Guiguilonen Baranggay Health Center conducted by iridologists affiliated with Dynapharm Products.
I nudged my eldest son, Allan, to go with me for a check-up so we can get a glimpse into what is wrong with his health ( he is so skinny and has frequent asthma attacks). Maaga na kami, actually patient #3 and #4 pa kami.
Allan was amazed that the analysis was accurate, even his headaches the past week were diagnosed. Also that he had asthma, problem with his bronchial tubes, lung problems, kidney, gallbladder, headaches and a hint of acidity. Advise was to avoid coffee and allergens. The iridologist advised him to undergo a detox program and cleansing.
He was given:
Absorbent Activated Charcoal- 3 caps before bedtime
Fern-C 2 caps a day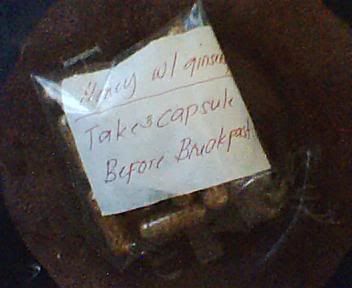 Ginseng with Honey - 3 caps before breakfast and
Pito-Pito Herbal Tea. All these were sold for Php600 for a 10-day regimen. That's okay basta for Allan.
I was also prescribed the same for detoxification ( but I didn't buy muna) because according to the iridology result I had sinusitis (yes, really chronic), poor eyesight, heart-gallbladder-lung problem. Bronchial tubes are acting up and I got headaches too. The usual culprit must be the smokers I associate with regularly. Numero Uno na ang asawa ko. Oh well, I always had weak lungs since I was a grader.
The general advice for all was to avoid fatty and salty foods, junk foods, caffeine, alcohol, cigarettes and cold drinks (I'm taking this from their prescription note) It was also advised to drink 8-10 glasses of water daily, drink natural fruit juices, eat fruits and vegetables daily and eat raw vegetable salad (Again, am taking from their note)
So when the check-up was over and we were home I realized I wasn't able to check the supplements and if the prescription was accurate ( 3 caps seem a lot, and they didn't ask about Allan's alergic reaction to honey)
I searched further about these and googled Dynapharm and absorbent caps - Dynapharm yes, absorbent caps none. Looked for Dynapharm products on the 'net, found the website but not the products.
Anyways, took me a week to convince myself that Allan shoud undergo the detox program as the supplements are not harmful naman and are commonly known via TV ads. I recall they had among their supply:Grapeseed Oil Extract by Powerlab.com, Taheebo Herbal Tea and Capsules, Heartvit, Kidneycare, Liveraid, Charantia Ampalaya Tea and others.
Allan took all the supplements regularly and he seems okay now. Kind of gained weight, yes in just a few days. No headaches or other symptoms. I'm thinking of having him checked again and get more of those supplements via Dynapharm. Then I found out the company doesn't have these supplements given us but sells other products with great testimonials Oi! But I found the Dynapharm products interesting so I texted the iridologist if they also have them but I was texted back "none" and if "I'll order the products they have" So ngayon, for the meantime, Allan is still taking the supplements from the iridologist and will soon be done in 5 days. Next time, maybe if we can afford we'll go back to them for thorough check-up and ask for Dynapharm supplements personally. So, Abangan!